Recovery Console Opening Screen Choose "Troubleshoot"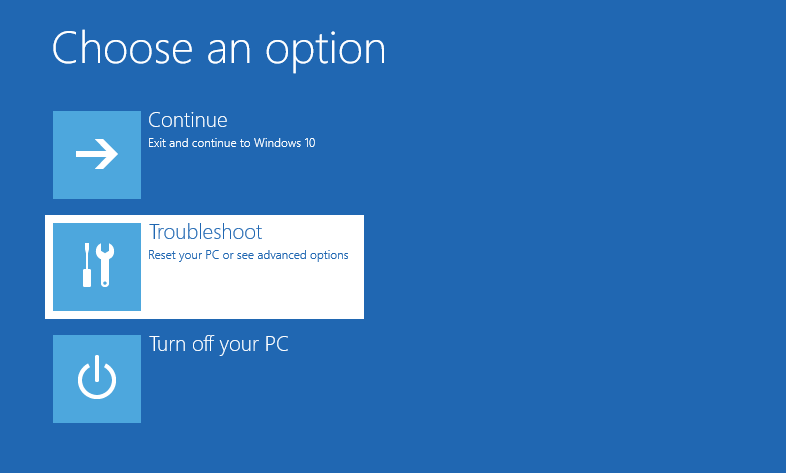 Choose "Advanced Options" Never Choose Reset this PC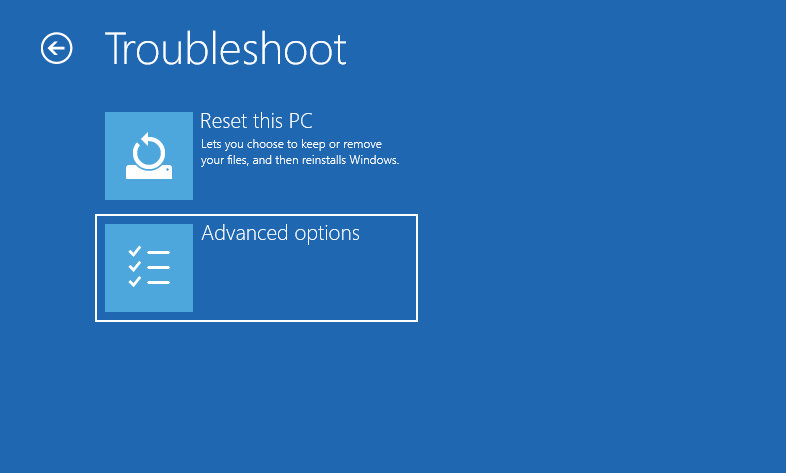 Choose "System Image Recovery"
NEVER Choose "System Restore" or "Startup Repair" if you have a recent Image Backup that you can restore! --- (Although these sometimes work, don't EVER make these choices, unless forced to.) This could brick your PC! If you do try these, then do a complete new Image Backup before you try it, so you can try other actions after restoring that image, if it fails.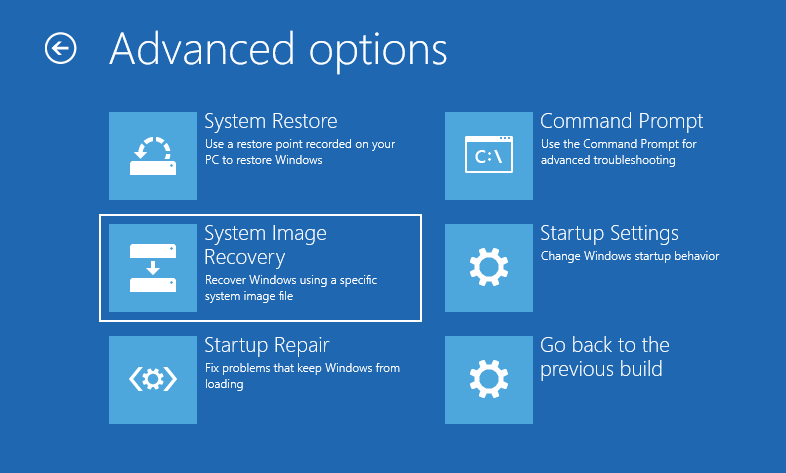 System Preparations Screen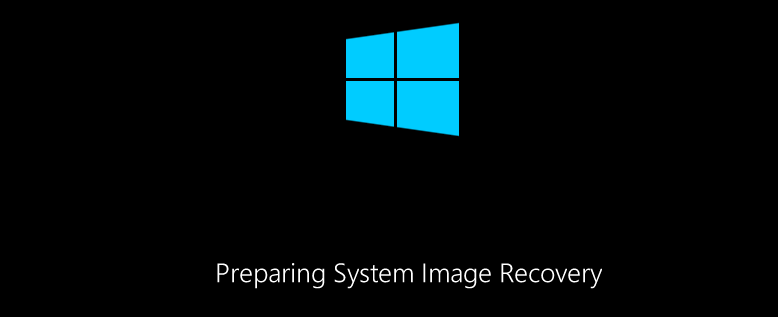 Choose an Account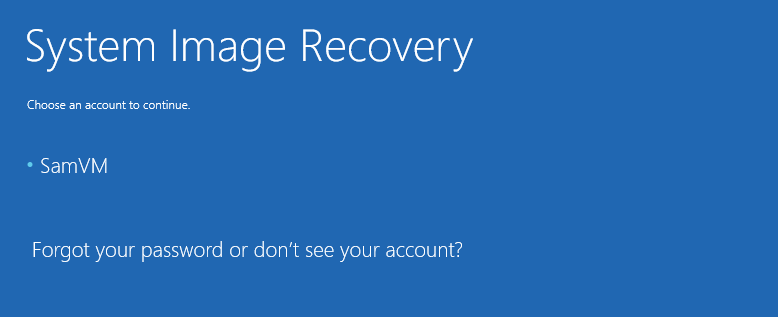 Enter Account Password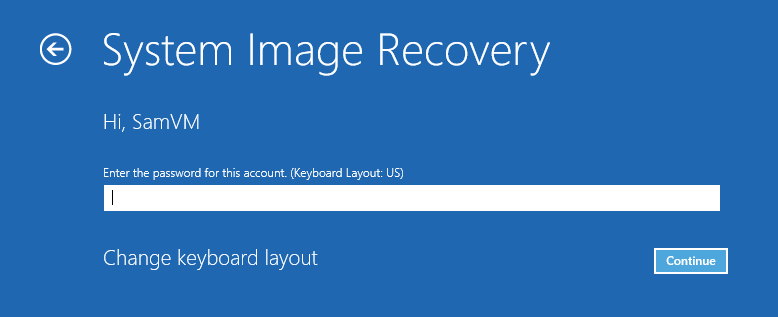 Select a System Image backup to restore
IF the drive shown is where your Image Backups are stored. IMPORTANT: To see the choices, you MUST click on the, "Select a System Image" button, and then choose NEXT. Snapback is designed to take, store and keep more than one Image Backup version that you can choose to restore. Windows was not designed to normally deal with multiple Image Backups. So by default, this screen only shows the one most recent Image Backup. Therefore, this screen below will NOT show you the filename, and instead, only shows the date that THIS Image Backup will use as the source to restore from.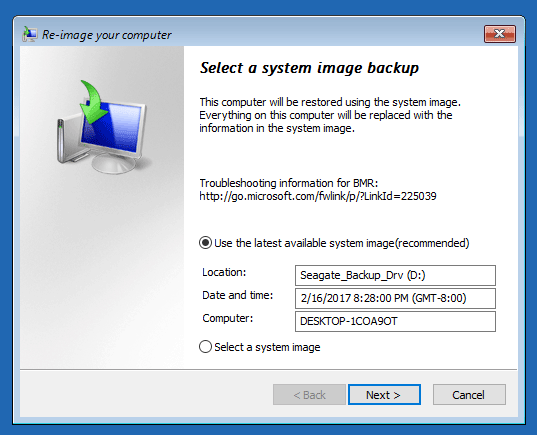 To see all images click on "Select a System image"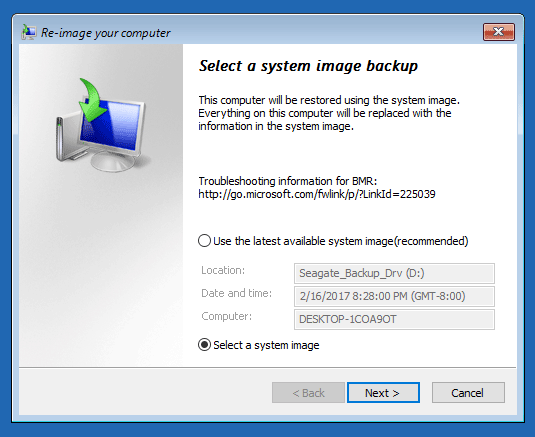 List of Available Images
All available images are listed when your external drive is connected. Choose the Image Backup you'd like to restore from. If SnapBack performed the backup, after that backup is complete, SnapBack renames that folder. If your computer name was Daves-PC, SnapBack renames it to: Daves-PC_2-26-2017_105gb. So, all the Image Backups will show which PC, when the backup was done, and how large it was. "Advanced" also allows you to choose a shared Windows network location from which to restore. (Network Image Backup restores might take a VERY long time. So, make sure you can't connect that Image Backup directly from that physical drive or through a USB-3 cable to the source containing that backup, (instead of a shared Windows network drive.)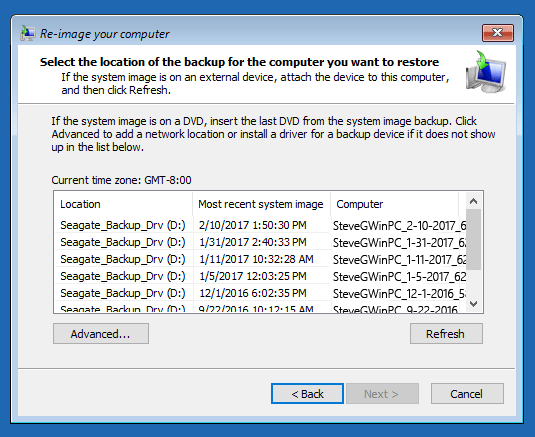 Pick an image to restore
You will see ALL Windows image backups that are on your external drive inside the \WindowsImageBackup\ folder. However, you will not be able to restore any images that were made from dissimilar hardware. To restore these Drive Images, you must use Recovery Console on a PC that is similar hardware that was used to create that Image Backup.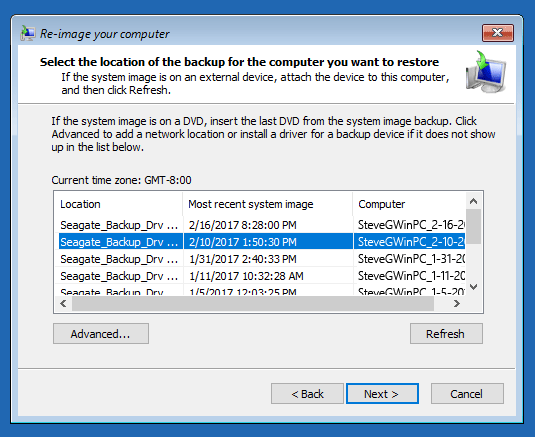 Additional Restore Options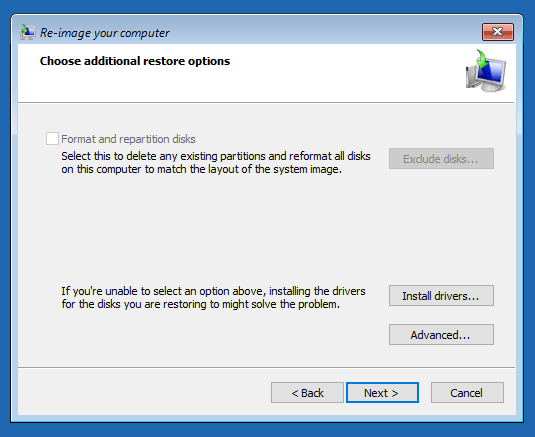 Restore Confirmation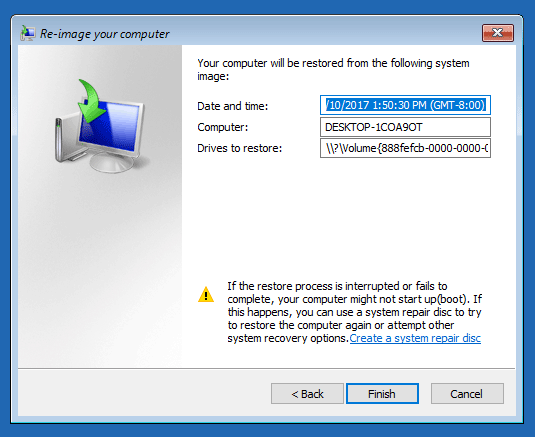 Restore Warning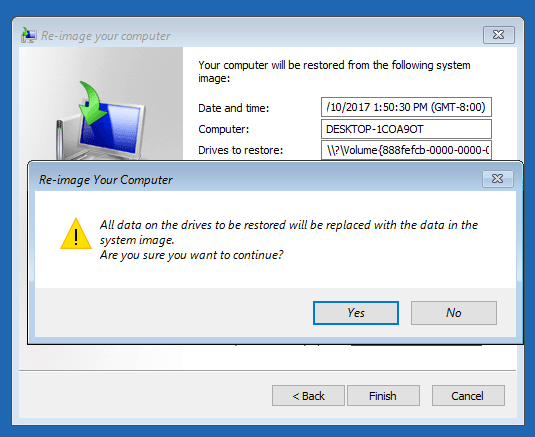 Restore Progress
When restoring an Image Backup to an SSD drive, it may take considerably longer than it did to create that Image Backup.